William McIlvanney's Laidlaw set for TV series
Company Pictures – the firm behind TV dramas Shameless, Elizabeth I, The White Queen and The Village – has optioned the TV rights for William McIlvanney's Laidlaw with Canongate. Read on.

Docherty Voted 10th Favourite Scottish Novel of the Past 50 Years
William McIlvanney's novel Docherty was voted 10th in a poll run by Scottish Book Trust to find out the public's favourite Scottish novel of the past 50 years. Read on.

Willie picks up Glenfiddich Spirit of Scotland Award for Writing
William McIlvanney expressed his delight and disbelief at receiving the award for Writing at the 16th Glenfiddich Spirit of Scotland Awards. Read on.

Christmas
Posted 8th December 2013
IT'S that time of year again when sleigh bells ring, but only on television, and a tree blooms in almost every window and men and women of the cloth get a bit desperate trying to establish some kind of meaningful relationship between Christianity and Christmas. Listening to the clattering hooves of shoppers stampeding down the high street, they must wonder if religion has evaporated completely into empty materialism, was here today and gone Gomorrah. They must feel like a board of directors who have lost control of the patent. Having connections with the boss's son isn't helping.
It's enough to make you hot under the dog collar. No wonder so many of them at this time seem to lie awake in the dark, with the lonely night-light of the mind for company, desperately waiting for one of those sudden I-know-what-I'll-do moments. We all have them, those times when we think of the precise physically impossible terms in which we'll tell that obnoxious boss where to put his job or to explain to that impossible woman how she can go and make love to her own incredible shape. I think we should have such moments and then forget them, for they are the devil appearing to us in the night, suave in evening dress, with his hair carefully coiffed to hide the horns. The inspirational instant fix is usually total breakdown in disguise.
Consider the vicar who decides to hit on Santa Claus. The Rev Lee Rayfield of St Mary's Church in Birkenhead gives this very heavy sermon about the corrupt lie that is Santa. He delivers 378 million presents to 91.8 million homes in 31 hours? He travels 3,000 times the speed of sound without his reindeer vaporising? Who's going to believe this? He's just a big fat front. Something shady is going on here.
He really scatterguns the old guy. Okay, so he has a point. Claus is the Mr Big of commercialism. He's Don Corleone in a neat red coat with funny white trimming. He can force people to buy any kind of junk. He leaves a lot of families more or less destitute for months after Christmas and then turns up again the next year, just in time for people to have recouped enough money to make the pickings lush. And he walks away, still smiling. The way things are going, you could be forgiven for thinking he's got Jesus in his pocket.
But somebody should have told the Rev: "Don't do this, Vic. This guy Claus, he got people everywhere. They'll be coming out the woodwork at you. He may be crook but he's also a nice big portly guy. And he got a white beard. And he keeps going Ho, ho, ho. Them kids love him. You hit on him, what's achieved? The guy's bullet-proof. He's still ho-ho-hoing. You? You eat crow the rest of your life."
And so it has proved. Even as I write, the Rev Rayfield is probably still composing letters of apology to more or less the whole world. They'll probably bury him with his fingers on his laptop.
Then there is the Rev John Carter. He's something called "spokesman for the Churches Advertising Network". That's an interesting one. Religion advertises just like any other conglomerate? This is like God saying "Please". And the burning bush spake and it said: "I've got some really nice offers here you might like to hear about."
(To read on click here.)




Dispatches




This website features writing by award-winning author and journalist William McIlvanney. One or two new Dispatches will be posted regularly and will be archived on this site. A lot of the writing featured here is new and unpublished, although extracts from Willie's existing body of work - journalism, essays and short stories - will also be included. All writing -

William McIlvanney.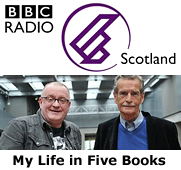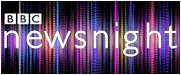 To read Doug Johnstone on William McIlvanney click here.

Willie and his website are featured on page 3 of S on S. Click here.

To read Susan Mansfield's article on William McIlvanney click here.



To read Allan Massie on William McIlvanney click here.

To read Hugh Macdonald on William McIlvanney
click here
.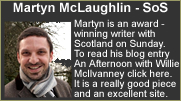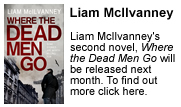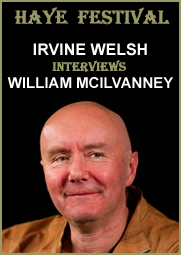 At the Haye Festival on Sunday June 2nd 2013, Irvine Welsh interviewed William McIlvanney. Check it out here. After one particularly dark question about the socio-economic conditions in eighties Scotland, Irvine lifted the mood with: "Anybody got a question about puppies, bunnies & kittens?" Love it! And what an infectious laugh!