'It was Glasgow on a Friday night, the city of the stare.' So begins William Mcllvanny's novel, and at once we are back in Laidlaw-land, the country of hard lives and harder truths.

None comes harder to Eck Adamson, vagrant and alcoholic, than the fact that he is dying. To his bed in the Royal Infirmary, Cathedral Street, he summons Detective Inspector Jack Laidlaw; his only friend among the police of the city, and manages to get out one last desperate message: 'The wine he gave me wisny wine.' Along with the messages, he leaves a cryptic note, giving a few lines of amateur philosophising, three names- Paddy Collins, Lynsey Farren, 'The Crib' ( a local pub)- and a phone number.

Other policemen might not have bothered with Eck, Laidlaw bothers. Eck's piece of paper becomes, for the detective a colleague mockingly calls 'St Francies of Simshill', a clue not only to the mystery of how a down-and-out died but to the larger mystery of how the rest of us live with the malignancy of our own dubious compromises.

For a start 'The Crib' is a pub where 'Behemoth would have been no better than even money' Paddy Collins had been part of Glasgow's under world before he was found stabbed to death –with so many holes in him 'they didn't know whether to bandage him or play a round of golf on him'. Laidlaw finds that Lynsey Farren is titled tourist among the rough men and the one-time girlfriend of a young Glasgow student, Tony Veitch. What he can't find is Tony Veitch.

The phone number turns out to be that of a public phone box, which seems appropriate since that implication of the story take in all of Glasgow and its people.
Other People on The Papers of Tony Veitch
"I have seldom been so seized by a style or so taken with a character as I was by Laidlaw…McIlvanney has broken new ground and is to be congratulated on his talent and his daring." Ross Macdonald

"The Laidlaw books are like a fine malt whisky - the pure distilled essence of Scottish crime writing. " Peter May

"Fastest, first and best, Laidlaw is the melancholy heir to Marlowe. Reads like a breathless scalpel cut through the bloody heart of a city." Denise Mina

Laidlaw is an enduring hero with the dry wit and insight to make other lierary detectives seem two- dimensional. McIlvanney is the razor king of Scottish crime writing." Gordon Ferris

"Compelling...McIlvanney lays bare the soul of Glasgow, capturing every nuance of its many voices."
Alex Gray

"Enthralling... an unusual, unique rendition of a city and society." The Scotsman

"McIlvanney paints a world of harsh reality, but does so in language that is strangely beautiful and hauntingly poetic. His work defies pigeonholing in any genre: this is simply great writing from a master of his craft." Craig Russell

                                                                                                                                           
William McIlvanney introduces an extract from 'The Papers of Tony Veitch'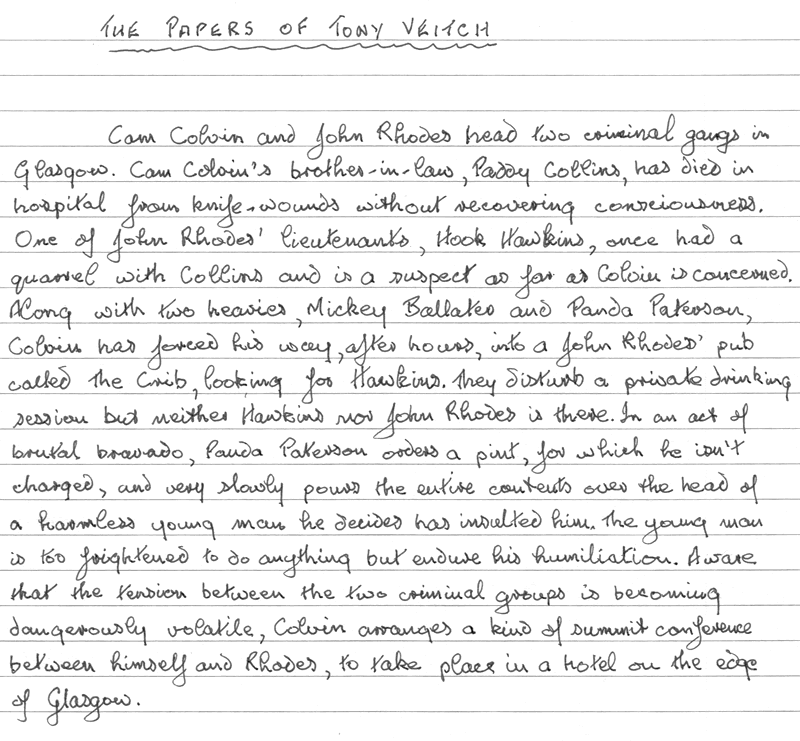 An Extract from 'The Papers of Tony Veitch'
The Coronach was still a drinking hotel, but quieter, especially on Sundays. To ask for a room there was as naive as expecting to meet Calpurnia in 'Caesar's Palace' .The only acknowledgement that hospitality could go beyond the dispensing of drink was the function suite.
It was called the Rob Roy Room, which meant that the carpet was MacGregor tartan and there were a couple of targes on the walls, framed in crossed claymores. Today its occupants were outlaws unromanticised by time.


When Macey ushered in John Rhodes, Hook Hawkins and Dave McMaster, Cam Colvin was already installed. Two of the small tables had been placed together with chairs around. Cam sat at the head of one of the tables, sedate as a committee-man.
John Rhodes and he were a conjunction of contrasting styles, like a meeting between shop-floor and management. Cam was conservative in a dark-striped suit and black shoes as shiny as dancing-pumps. The shirt was demurely striped and the tie was navy. John looked as if his tailor might be Oxfam. The light-brown suit was rumpled, the shirt was open-necked. He was wearing a purple cardigan.
Cam registered nothing when John Rhodes came in. But the fuse was already lit in John's blue eyes. Cam and he nodded at each other. Cam indicated the man who was sitting on his right.
`This is Dan Tomlinson,' he said. `He's the manager.'
Dan Tomlinson was a thin man in his fifties. He looked worried, as if he couldn't remember whether his hotel insurance was up to date. Mickey Ballater was standing nearby and nodded.The only other man in the room, who had been trying to stare down the one-armed bandit beside the small bar, ambled across to join them.
`Oh,' John Rhodes said. 'And Panda Paterson.'
`Correct, John. Your memory's good,' Panda said.
He extended his hand to shake and John Rhodes punched him in the mouth. It was a short punch, very quick and very measured, costing John nothing, the punch of a man in training, emerging from reflexes so honed they seemed to contain a homing device. It was only after it had landed you realised it had been thrown. It imparted awe to some of the others, as if thought was fait accompli.
The effect was reminiscent of the moment in a Hollywood musical when the mundane breaks into a Busby Berkeley routine. Suddenly, Panda Paterson was dancing. He moved dramatically onto the small slippereened square of dance floor and did an intricate backstep. Then, extending his improvisation into what could have been called 'The Novice Skater', he went down with his arms waving and slid sitting until the carpet jarred him backwards and his head hit a radiator like a duff note on a xylophone.
`That's the price of a pint in "The Crib",' John Rhodes said.
There was blood corning out of Panda's mouth. He eased himself off as if to get up and then settled back, touching his mouth gently.
`Ye've made a wise decision,' John Rhodes said, watching him refuse to get up. 'You're right. Ah've got a good memory. Ah don't know where you've been lately. Watchin' cowboy pictures? Well, it's different here. Whoever's been kiddin' you on ye were hard. Ah'm here tae tell ye Ah've known you a long time. Ye were rubbish then an' ye're rubbish now. Frightenin' wee boys! Try that again an' Ah'll shove the pint-dish up yer arse. One wi' a handle.'


If you could have bottled the atmosphere, it would have made Molotov cocktails. Practised in survival, Macey was analysing the ingredients.
John Rhodes stood very still, having made his declaration.
What was most frightening about him was the realisation that what had happened was an act of measured containment for him, had merely put him in the notion for the real thing. He wasn't just a user of violence, he truly loved it. It was where he happened most fully, a thrilling edge. Like a poet who has had a go at the epic, he no longer indulged himself in the doggerel of casual fights but when, as now, the situation seemed big enough, his resistance was very low.
The others, like Panda Paterson, were imitating furniture. This wasn't really about them. Even Panda had been incidental, no more than the paper on which John had neatly imprinted his message. The message was addressed to Cam Colvin.
Macey understood how even at the moment of its impact John's anger had maintained a certain subtlety. Neither he nor Cam needed confrontation. People could die of that. John had repaid an oblique insult. The move was Cam's.
He took his time. His eyes sustained that preoccupied focus they usually had, as if the rest of the world was an irrelevant noise just over his shoulder. He seemed so impervious to outside pressure, Macey felt he could have rolled a fag on a switchback railway. He looked up directly at John Rhodes.
`You'll need to work on your fishtail, Panda,' he said. 'It's rubbish.'
It was style triumphant. Everybody laughed except Panda Paterson, who stood up sheepishly. John Rhodes, like a bull lassoed with silk, sat down at the table. The others joined him. Dan Tomlinson brought drinks, port for John and beer for the others. Cam was drinking orange juice. Dan Tomlinson went out. The meeting was convened.
William McIlvanney, Fulton Mackay and others at the original launch of "The Papers of Tony Veitch".
e-mail: william.mcilvanney@personaldispatches.com